EDUCATIONAL SALES AND PUBLIC SCREENINGS
In 2004, Cambodian union president Chea Vichea was assassinated in broad daylight at a newsstand in Phnom Penh. Two young men were arrested, convicted, and sentenced to twenty years in prison. Both of them had alibis.
Director Bradley Cox's eye-opening one-hour documentary Who Killed Chea Vichea? offers an unprecedented look at the inner workings of modern Cambodia, raising important and current questions about the rule of law, democratic development and globalization. Banned in Cambodia.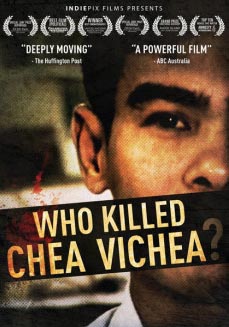 A remarkable documentary on the tragic story of Chea Vichea's murder, which illustrates a brutal disregard for human rights by unscrupulous political power.
— Peter Leuprecht, Professor, Université du Québec à Montréal
Former Representative of the UN Secretary-General in Cambodia
Spectacular, so well made and able to produce a complex understanding of a complex situation in a short time. And visually and sonically, it's absolutely superb.

— Charles Sullivan, Program Coordinator
Center for Southeast Asia Studies, University of Michigan
A devastatingly effective piece of investigative journalism ... Our screening of the film was very well received, and in fact left the audience a little stunned ... The lessons learned here were more immediately useful and had more impact than any university lecture.

— Sarah Maxim, Vice Chair
Center for Southeast Asia Studies, University of California - Berkeley
Most impressive, deeply thoughtful, beautiful in its intimacy and deep understanding, and restrained in its judgments.

— Michael Fink, Professor & Filmmaker
Rhode Island School of Design
---

EDUCATIONAL SALES (download pdf)
Who Killed Chea Vichea? is of particular interest to scholars in Asia Studies, Political Science, International Relations, Law and Economics. Screenings have been hosted by the National Press Club, by colleges and universities including Harvard, Macalester, NYU, Ohio University, Shippensburg University, and the universities of Calgary, California–Berkeley, Illinois, Michigan and Washington. It has been broadcast on US public television through the National Educational Television Association.
The educational license includes library holding, classroom use and other non-public screenings within your institution.
For information on public performance rights see Public Screenings, below.
Included on the DVD
4x3 standard and 16x9 wide-screen formats
English, French and Spanish subtitles, accessible English captioning
Full Khmer-language audio option
Extra video features on the garment industry and the Cambodian court system
Extended interviews with Chea Vichea and other principal figures
Additional deleted scenes
Released August 2011 • 58 minutes • NTSC • Color • Dolby 2.0 Stereo
ISBN 978-1-4507-9887-7
DVD with educational license: US$235 including postage.
To request a reduced price or to request a free online screener,
please contact us directly.
Ordering from outside the US?
The DVD is not region-coded, so it is playable without limitation everywhere. However the DVD is encoded as NTSC, the video standard used in North America, Japan and some other areas (map). Although almost all PAL systems will play NTSC DVDs, we can't guarantee that the DVD will play correctly on every player or TV everywhere. Questions or comments: sales@loudmouthfilms.net
---
The suggested fee for public screenings (without admission charge) is $300. This fee is reduced to $200 if a library copy is also purchased. The fee may be lower for smaller organizations.
We are happy to make special arrangements, when possible, for a speaker to participate in discussions or Q&A after screenings, either in person or via Skype.
If you're interested in a public screening of Who Killed Chea Vichea?, please contact us and include as much of the following information as you can:
Name and description of sponsor organization
Approximate date or date range of screening
Location of screening (city or town)
Type of venue (movie theater, social hall, classroom, outdoors)
Admission policy (free, donation requested or admission charge)
Approximate size of expected audience
Interested in a speaker or not
In addition to the screening fee, we will ask you to do the following:
Before your screening:
So we can help you promote your screening, tell us the exact date, time, location, sponsoring groups, contact info and admission policy; send us the URLs of online announcements and electronic copies of any posters. We will supply you with any graphics and logos you need.
Find out and tell us the technical requirements of the projector or screening equipment you're going to use. DVD is OK, but playing from a QuickTime file gives better picture quality and reliability.
At your screening
:
If permitted, collect names and e-mail addresses of audience members who want to be on our e-mail list. (Download sheet here.)
Hand out an information sheet about how audience members can order a copy of the film. (We can also arrange with you to sell copies of the DVD at your screening.)
After your screening
:
Tell us how many people came and if there were any interesting responses to the film.
Send us the e-mail list you collected
Send us any photos taken at your screening and any news articles about it.
Return the screening copy.