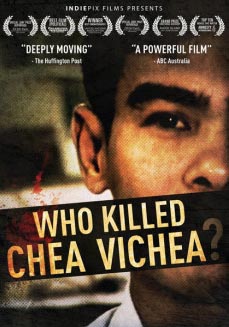 Who Killed Chea Vichea?
is available for personal use on DVD for $19.95 plus shipping.
If you want to rent the streaming version to watch online, click here.
For educational or institutional licensing and for public screenings click here.
The DVD includes:

Original 4x3 full screen version and 16x9 wide screen version (58 minutes)
Full Khmer-language audio option (fully dubbed in Khmer)
English, French and Spanish subtitles, plus full English caption option
Extended interviews with Chea Vichea, Born Samnang and Sok Sam Oeun
Deleted scenes
Short features on the garment industry and the Cambodian court system
Ordering from outside the US?
We ship worldwide. The DVD is not region-coded, so it is playable without limitation everywhere. However the DVD is encoded as NTSC, the video standard used in North America, Japan and some other areas (map). Although almost all PAL systems will play NTSC DVDs, we can't guarantee that the DVD will play correctly on every player or TV everywhere.